BSR Buffy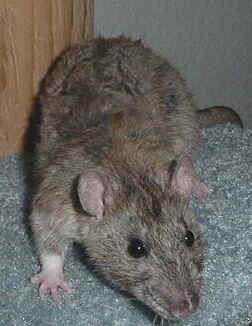 D.O.B: January 15, 01
D.O.D: April 16, 2003 - age related, possible stroke - Not something we were expecting, we will miss Buffy very much :(
Type: Agouti Berkshire Rex, carries blue and dumbo
Bred By: Blue Snow Rattery
Sire: black hooded double rex dumbo
Dam: blue agouti
Litters: 1 at another rattery, 1 here with Thor of AP
Health: Great
Temperament: Great
Notes: She is an escape artists! But besides that she is very sweet, a run around rattie, likes to check everything out. She is also one of my biggest females.