AP Lucky Ducky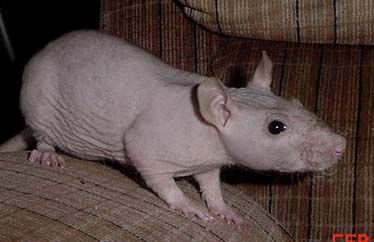 Ducky little..................................................................................Ducky bigger
D.O.B: November 5th, 2002
Type: Agouti Hairless, carries blue, RED and dumbo
Bred By: Angel Paws Rattery
Sire: CR Rocky
Dam: AP Truly Beautiful
Litters: 1 with LRR Marbles
Health: Great
Temperament: Great
Notes: Ducky is a beautiful and amazingly sweet girl. She is very calm for a girl, likes to be with you rather than explore. She has her mothers charming and loving personality and her fathers ears! She had a litter of babies but did not lactate, so now she is retired from breeding and happily living with Jessica.


Pedigree for AP Lucky Ducky:
Sire
AP Truly Beautiful - Beige (?) Hairless Odd-Eyed Dumbo
Sire
AP Gary - Russian Blue Blazed Banded Hairless Dumbo
Sire
SPR Solo - Russian Blue Blazed-Banded Hairless Dumbo
Sire
RSCL Ricochet - Lynx Blazed Berkshire Dumbo, Double Odd-eye
Dam
MSR Suki - Russian Blue Blazed Berkshire Dumbo Rex
Dam
SSP Grayce - Beige Hairless d/c
Sire
His - Beige Hairless d/c
Dam
Hers - Beige Hairless d/c
Dam
FT Stella - Fawn Berkshire d/c
Sire
SPR ? - Blue Dumbo
Sire
MSR Sebastian - Blue Self Dumbo
Dam
SPR Saffi or
SPR Silvi
Dam
Sire
Dam
Dam
CR Rocky - Blue Hooded
Hairless
Sire
HH Frankenstein - Beige
Hairless
Sire

Sire

Dam

Dam

Sire

Dam

Dam
RR Elizabeth - Chocolate Broken Hooded d/c

Sire
RR Sabin - Chocolate Blaze
Hairless d/c
Sire

Dam

Dam
RR Babette - Black hairless
Dumbo

Sire

Dam

This pedigree page was built for free at SitStay.com