SSP Grayce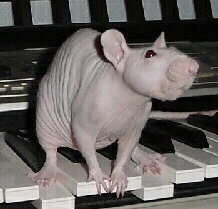 D.O.B: March 30, 2001
D.O.D: May 11th, 2003 -
Type: Beige Hairless, carries dumbo and russian blue
Bred By: Stevens Silly Paws Rattery
Sire: His (Beige hairless d/c)
Dam: Hers (Beige hairless d/c)
Litters: 1 with SPR Solo, 1 with AP Lone Ranger
Health: Great
Temperament: Great
Notes: She has a lovely personality and loves to be with you. She is by far one of the best hairless moms I have ever seen and with her clean bill of health and super temperament she is a vital part to our hairless breeding program. AP Truly Beautiful is her grand daughter.