RG Icee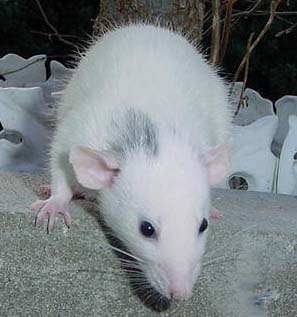 D.O.B: January 15th, 2003
Type: m/m BEW Dumbo
Bred By: Rat Genesis
Sire: SRR Greyson Adams
Dam: EBV Vixen Viva
Litters: 1 with SRR Webster
Health: Great
Temperament: Great
Notes: Icee is a sweet girl, very outgoing and active. Likes to explore and tease the boys, every time she is out she heads straight for the boy cages! Icee is now happily living with Angela.


Pedigree for RG Icee:
Sire
SRR Greyson Adams -
Greyed black possum faced spotted dumbo

Sire
SRR Riley -
Blue "variberk" dumbo
Sire
YOTR Wegman -
Blue varigated dumbo
Sire
RR Abbot -
Black blazed capped dumbo
Dam
YOTR Wisteria -
Black vari-berk dumbo rex
Dam
MAR Pansy -
Silvered lilac merle English/Irish d/c
Sire
MAR Bouncer -
Blue berkshire dumbo
Dam
DrD Splash -
Pearl merle
Dam
SRR Irene -
Agouti dilute blazed banded rex d/c

Sire
RRR Pongo -
Grayed black dalmatian rex d/c
Sire
NWSSR Spot -
English blue dalmatian dumbo
Dam
NWSSR Kissey Face -
English blue dalmatian rex dumbo
Dam
RRR Hara -
Agouti blazed berkshire dumbo
Sire
NWSSR Grease Spot -
Black dalmatian
Dam
Chikita -
Dalmatian rex dumbo
Dam
EBV Vixen Viva -
Black eyed white dumbo


Sire
Sire
Sire
Dam
Dam
Sire
Dam
Dam

Sire
Sire
Dam
Dam
Sire
Dam
This pedigree page was built for free at SitStay.com