RR Lexi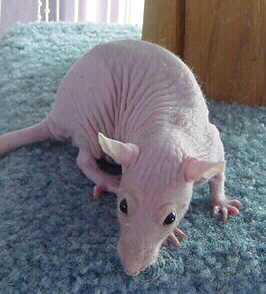 D.O.B: July 30, 2001
Type: Beige Hairless, carries dumbo
Bred By: Ratz Realm Rattery
Sire: FH Sabu (Beige hairless dumbo odd-eye)
Dam: PP Quinna (Beige hairless odd-eye)
Litters: 1 with AP Gary
Health: Great
Temperament: Good
Notes: First place she always goes to is my shoulder, she will sit up their forever. She loves everyone and has a good temperament. Lexi is now living with Lori.