AP Truly Beautiful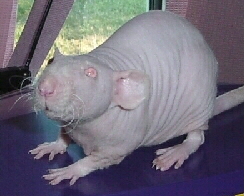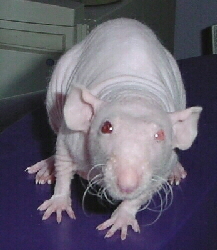 D.O.B: April 1st, 2002
Type: Beige (?) Hairless Odd-Eyed Dumbo, carries blue
Bred By: Angel Paws Rattery
Sire: AP Gary
Dam: FT Stella
Litters: 2 with CR Rocky
Health: Great
Temperament: Great
Notes: "Tru" is well truly beautiful :) She reminds me of her dad, friendly, affectionate and low key. She was a great mother to her babies. She is now happily living with Lori.


Pedigree for AP Glory:
Parents
Grandparents
Great Grandparents
Great Great Grandparents

AP Gary - Russian Blue Blazed Banded Hairless Dumbo


SPR Solo - Russian Blue Blazed-Banded Hairless Dumbo
RSCL Ricochet - Lynx Blazed Berkshire Dumbo, Double Odd-eye
MAR Lightning - Lynx Blazed-Banded Dumbo, Double Odd-eye
RSCL Sunflower - Fawn American Irish Dumbo
MSR Suki - Russian Blue Blazed Berkshire Dumbo Rex
MSR Herbie - Blue Blazed Irish Satin

MSR Vera - Blue Berkshire Dumbo Rex
SSP Grayce - Beige Hairless d/c
His - Beige Hairless d/c
Hers - Beige Hairless d/c
FT Stella - Fawn Berkshire d/c
SPR Cupid - Blue Dumbo
MSR Sebastian - Blue Self Dumbo
MSR Herbie - Blue Blazed Irish Satin

MSR Vera - Blue Berkshire Dumbo Rex
SPR Saffi or
SPR Silvi