SRR Webster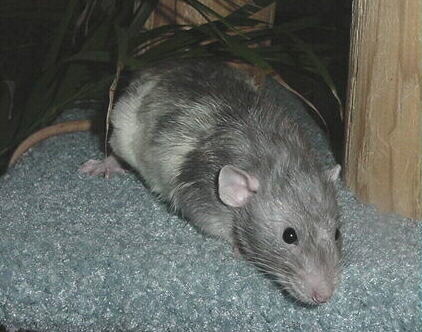 D.O.B: January 17, 2002
Type: Blue Mottled Dumbo, carries lilac and PED
Bred By: Spoiled Ratten Rattery
Sire: YOTR Wegman
Dam: MAR Pansy
Sired Litters: 1 with RSCL Taffy, 1 with AP Glory, 1 with MAR Tess, 1 with MAR Hollywood, 1 with AP Eve and 1 with RG Icee
Health: Great
Notes: Webster (formerly known as MAR Webster) is a beautiful boy, he has a gorgeous coat and perfect dumbo ears. He is very playful and outgoing, loves to sit in your lap and have his ears rubbed. He came all the way from Missouri and we are so happy to have him here!


Pedigree for SRR Webster:
Parents
Grandparents
Great Grandparents
Great Great Grandparents
YOTR Wegman -
Blue varigated dumbo
RR Abbot -
Black blazed capped dumbo
PS Spencer -
Mismarked BEW
PS Fletcher -
Black masked dumbo
PS Pumpkin -
Mismarked BEW
RR Pugslina -
Black capped
MN Cobalt -
Blue capped dumbo
MN Stevie Nicks -
Blue varigated
YOTR Wisteria -
Black vari-berk dumbo rex
LM Wolfgang -
BEW rex dumbo
Unknown
Unknown
YOTR Wilhelmena -
Black rex self dumbo
BB Wilson -
Blue self rex dumbo
YOTR Hazlet -
Champagne self dumbo
MAR Pansy -
Lilac berkshire d/c
MAR Bouncer -
Blue berkshire dumbo
MAR Arthur -
Beige hooded d/c
STAR Yoda -
Blue hooded dumbo
MAR Renaissance -
Beige hooded std
Rogue's Ginger -
Lilac self d/c
Rogue's Merle -
Pearl merle
Rogue's Dumbo -
? dumbo
DrD Splash -
Pearl merle
Unknown -
Pearl merle
Unknown
Unknown
Unknown -
Pearl merle
Unknown
Unknown