AP Glory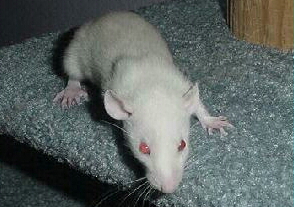 D.O.B: November 16, 2001
Type: Silver Agouti(Aa gg pp)Blazed Berkshire Dumbo Odd-eye, carries mink and RED
Bred By: Angel Paws Rattery
Sire: RSCL Dewey
Dam: FT Stella
Litters: 1 with Thor of AP and 1 with SRR Webster
Health: Great
Temperament: Great
Notes: Glory is a great girl, very social, loves people! She has a great temperament, she loves to ride on shoulders, calmer than most females and very licky! Glory is now living with Jennifer of Li'l Rugrats Rattery and will be having a few litters with her.


Pedigree for AP Glory:
Parents
Grandparents
Great Grandparents
Great Great Grandparents

RSCL Dewey - Platinum Blazed Berkshire Dumbo Odd-eye

RSCL Stewart - Satin Blue Fawn Dumbo
RSCL Ice Man
- Blue Dumbo
DC Slate
- Blue Self Dumbo Rex
RSCL Blossom
- Blue Agouti American Berkshire Dumbo
NWSSR Cinnamon
- Cinnamon Dumbo Satin
NWSSR (not posted)
- Blue Irish
NWSSR (not posted)
- Agouti
RSCL Nutmeg - Buff Dumbo
MAR Lightning - Lynx Blazed-Banded Dumbo, Double Odd-eye
AR Farnsworth - Beige Blazed Capped Dumbo
AR Buffy - Beige Berkshire Dumbo
RSCL Christa - Blue Dumbo Rex
DC Slate - Blue Self Dumbo Rex
Sky - Blue Agouti Berkshire
FT Stella - Fawn Berkshire d/c