AP Gary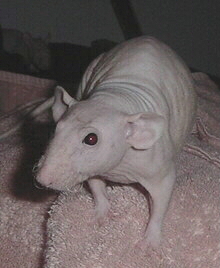 D.O.B: July 24, 2001
Type: Russian Blue Blazed Banded Hairless Dumbo, carries beige
Bred By: Angel Paws Rattery
Owned By: Danielle Jones
Sire: SPR Solo
Dam: SSP Grayce
Sired Litters: 1 with RR Lexi, 1 with FT Stella (Kept AP Truly Beautiful)
Health: Great
Temperament: Fantastic
Notes: Gary is such a sweet guy, he is just one of those rats that can steal your heart in a second. He also loves to give kisses. If you want to know more about Gary please e-mail his owner.


Pedigree for AP Gary:
Parents
Grandparents
Great Grandparents
Great Great Grandparents

SPR Solo - Russian Blue Blazed-Banded Hairless Dumbo

RSCL Ricochet - Lynx Blazed Berkshire Dumbo, Double Odd-eye

MAR Lightning - Lynx Blazed-Banded Dumbo, Double Odd-eye
AR Farnsworth - Beige Blazed Capped Dumbo

AR Buffy - Beige Berkshire Dumbo
RSCL Sunflower - Fawn American Irish Dumbo
RSCL Ice Man
- Blue Dumbo
NWSSR Cinnamon
- Cinnamon Dumbo Satin
MSR Suki - Russian Blue Blazed Berkshire Dumbo Rex
MSR Herbie - Blue Blazed Irish Satin
MSR Nugget - Blue Rex
MSR Splash - Black Varigated
MSR Vera - Blue Berkshire Dumbo Rex
MSR Nugget - Blue Rex
MSR Splash - Black Varigated
SSP Grayce - Beige Hairless d/c
His - Beige Hairless d/c

Hers - Beige Hairless d/c